A Curtsy to the Ornament
Since the rejection of additional adornments in the field of design and applied arts, the current position of the ornament has also become unclear within jewellery art. In this master project, a possibility for new interpretations is offered in which the functional aspect of wearability of jewellery is defined by the ornament. An elegant design on one hand and functionality on the other are being obtained by working with the natural tension of materials with an archaic feel.
As a result, a set of bracelets and necklaces was created, mainly constructed out of ornamental phosphor bronze or cherry wooden lines and strips, which are responsible for the wearability of the jewellery pieces.
And so could an ornament with a merit in se recapture the once earned fame of its prehistory and resurrect the faded glory of traditional ornaments with their nostalgic value.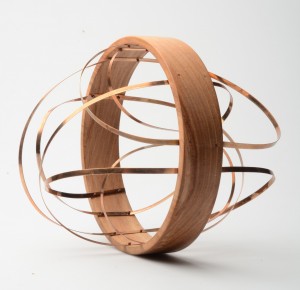 Solid Resistance II, cherry wood, phosphor bronze & copper, 2014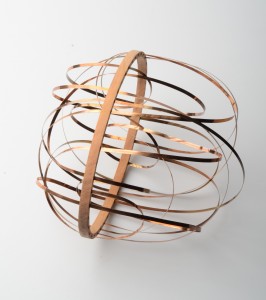 Solid Resistance III, cherry wood & phosphor bronze, 2014
Physical Sovereignty I, cherry wood & copper, 2014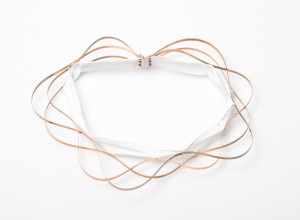 Influence on Flexibility I, cherry wood, phosphor bronze & copper, 2014